by Caitlin Scarano
A Poem to Multiple Men
Who made and mended my wrists
of wire. Copper conductors of heat
and electricity. Think of the synaptic
dance, jaw loose daze as you bend
me over and peer inside. I keep you
around to witness the holes in me
I can never see. In the morning we part
wordless, mired mouths, semen on my chest,
the sun rapping against my window
like a chipper neighbor in need of sugar.
I learned the price of loving
a place more than a person: that's how
I lost one. Were we ever happy? I wrote
and then stomped through each creekbed
between our bodies with kneehigh
galoshes. Most days I take a girl
for a mask. I hide my teeth behind
my hair and pretend to love snow. Give me
the boy with the belly of an ox, give me
one like a child's tower of blocks
that I can knock down and rebuild
until the game tires of us. I hope you find
someone who loves you. I was never the girl
next door, I was the one cackling beneath
the radiator, bruising herself behind
the eyes. Chasing the moonsure,
the white dog, the man who left me
with a tongue of coal dust.
He's really no different than the boy
I made into jigsaw and kissed in the rain
until one of us bled.
Questions I Never Asked Him
Why did you pretend not to notice the way your father spoke to your mother?
 I'm sorry. I know you always wanted me
to be noble. But, unlike you, I didn't have years of practice kissing
stove coils and sweeping cottonmouths from the doorstep.
When I stood on the side of the road and begged for you to help me,
what did you whisper to the rain?
I said I wanted it back – my birch grove boyhood,
the hair you shaved from your head that second year, the last
coyote I shot beneath the cottonwoods.
If you could have been any other animal, which would it have been?
You, mixing flour and water in a white bowl
with a wooden spoon while the neighbor's huskies
howled at the unseen.
Do you remember the last thing I whispered in my sleep?
Each morning, I sit by this window of snow
you surrendered and try sentences on like faces.
Why did you blame me for the teeth you swallowed?
Wasn't I with you when you father died?
Didn't you stir the dark lake in me for its creatures?
Yes, but who will I be now?
Burn an acre behind the house. Tend the edges
of that fire until fall.
When did you realize we would not have children? Did you feel a loss then?
It must have been when I found the severed
head of a cat, still blinking, in our bed.
I don't know about loss,
but I paused before burying it
deep.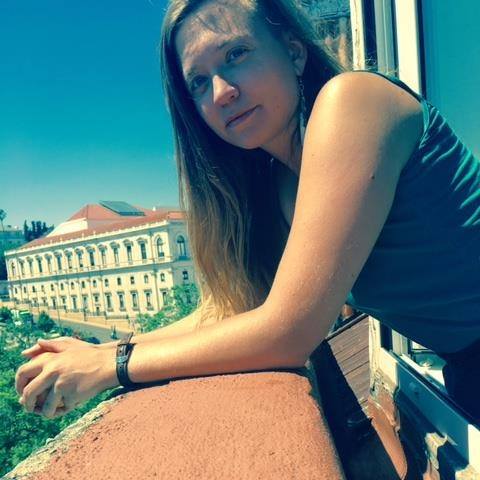 Caitlin Scarano is a poet in the University of Wisconsin-Milwaukee PhD creative writing program. She was the winner of the 2015 Indiana Review Poetry Prize, and second place winner of Ruminate Magazine's 2016 Spiritual Nonfiction Prize. She has two poetry chapbooks: The White Dog Year (dancing girl press, 2015) and The Salt and Shadow Coiled (Zoo Cake Press, 2015). Her recent work can be found in Granta, Crazyhorse, and Ninth Letter. This October, she will be a VIDA fellow at the Sundress Academy for the Arts Residency.