brilliant is the noise
of palming myself
in the early afternoon,
after the second shot
of t to my subcutaneous
tissue; pardon me, the
stomach. i mean excuse me,
the belly. it is too often that
i speak to my body
as if we have never met.
i am so formal:
i do not look at my
reflection below the chin,
i cover myself with towels
as so to not shock
my own system. i loved
myself only in the dark,
with a hand over
my own mouth–today,
i treated myself real nice,
the way i do when i want to
impress—nine yards
and then some. i cooked
myself something fresh,
complimented the
heft of my cheeks,
laid navel up and unafraid
of judgment– reverently, i
kissed the crook of
my own elbow
and came so alive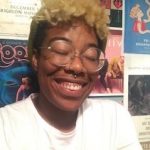 Levi Cain is a gay Black poet from New England. Their first chapbook, 'dogteeth' will be available from Ursus Americanus Press in 2020.