by Abby Templeton-Greene
I thought
it was something
you bought.
Like a toothbrush,
or a new pair of socks,
a coloring book.
Having heard my mother say it
and knowing it was good,
I announced to my 3rd grade class:
My sister has cleavage.
I didn't know what it meant
but I knew it was something to be proud of,
like setting a new double-dutch record
or holding your breath underwater
a whole lap of the pool.
*         *          *
At camp we were responsible
for splitting our own firewood.
Just swing, we were instructed,
and let the weight of the ax drop
through your hands.
The wood splintered and cracked
as if it had the division planned all along.
My friend and I got the bottom bunk,
the girls above us wore training bras and lip-gloss.
At night they held their hands over their mouths
not to laugh while they sprinkled salt on us
and watched as we batted at air.
The counselor told us to eat our veggies,
Carrots will make your boobs grow, she said.
The girls on the top bunk ate
whole plates of the stuff.
Instead of salt shakers,
they started smuggling
carrots out of the cafeteria:
pockets and day packs full.
*          *          *
I remember the scene in 'Mr. Mom'
when Michael Keaton looks over
his neighbor's shoulder while playing poker,
only he's not really looking
at her cards. Are these any good?
she asks him, You got two pair,
you got plenty. He answers.
*          *          *
It was in 7th grade when
Jamal Thomas told me
I had nice legs.
Nice at what? I asked.
Just nice.
It was as if he had told me
I had a nice elbow
or a really great pair of knuckles.
*          *          *
I want to go back
to those middle school hallways,
to the closed doors of high school,
to that kid, before she was
girl or teenager, before
she knew the presence of eyes
following her across intersections.
I want to tell her
she is more than a vessel of want,
more than a glossy photo
or a golden collection of cells.
To tell her:
you are wind,
a knocking escaping ribs,
the pull of a hundred tiny fists
holding tight.
Drawing: Remy van den Abeele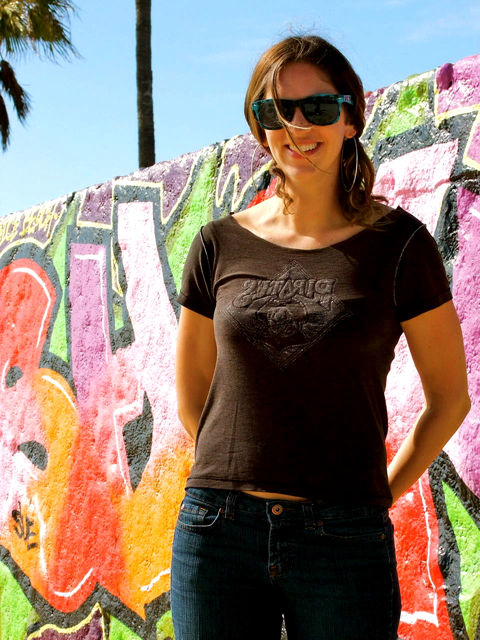 Abby Templeton-Greene's poetry has been published or is forthcoming in McSweeneys, Calyx, RATTLE, Pilgrimage, The Wazee, and several other journals. She has an MFA from Antioch University Los Angeles and is a winner of the 2011 Lighthouse Writers Seven Deadly Sins Writing Contest and the 2012 Sixfold Writers Contest. Abby teaches Creative Writing at Florence Crittenton High School in Denver, Colorado.