Exiting on Bell Road
The streets of my hometown are lined with brooding palms, dying in summer sun. The heat—sucking moisture from blades of grass, sucking souls, sucked my memory dry.
My parents uprooted me at age nine. Brought us to the desert to find a sense of family. A hope that we would fall into the swing of weekend dinners, summer residencies with relatives and the reliability of our resident handyman, Norm. He was the last in a string of my grandmother's failed trysts. He was deemed her savior.
As far back as I can remember, I remember him. His smell, the growl of his voice, the too-firm touch of his hands. I have lost the ability to remember a life prior to his presence.
In Kingswood Parke there is a house seething with sin, shelled memories of innocence line the halls, discarded. In this house my parents raised a child who never learned what childhood meant. A house where no room felt safe. I shifted. Front room. Guest room. Den.
After he left I would find him. Linger. Linger. Meds on my tongue. Every boy in my bed. Every failed attempt at counseling, healing. Flashbacks. Convulsions. Hospitals. Broken hearts. Broken bones. Broken promises. Broken home. Haunt knows no boundaries.
There is no median between the pressure of his flesh on mine and this plague that refuses to come undone.
In Secret
Shane was the first. The kind of boy I read about in books. Saw in movies. Tall? Dark? Handsome? He was a dead ringer for my Breakfast Club beau, John Bender. I always pined after the criminal. On the first day of high school orientation we came face-to-face in an "icebreaker." Our challenge was to exchange international pleasantries with a complete stranger. He was mine. I was his. We shared a firm handshake, friendly smiles, and the ultimate test for the faint of heart—eskimo kisses. A nose-to-nose rub with your partner. We giggled and obliged.
Shane was the first boy I was convinced I loved. The only thing I wanted at fourteen was for him to return the favor. Fall of freshman year, after a couple of months demonstrating my desperation, he invited to me over to his house. I made sure to come equipped with my vanilla bean Lipsmackers—I thought to myself, "just in case." He gave me a tour. I beamed. I followed. The butterflies in my stomach had quickly cast themselves a fleet of raging pterodactyls. He popped a copy of CKY's newest film in the DVD player and we sat down on his couch. When he kissed me our glasses knocked together like two glasses of celebratory champagne. My mom picked me up and I trembled the whole ride home. Shane and I didn't speak for the next week. Shane had a girlfriend. His girlfriend, my friend. They always were.
In our sophomore gym class we sat on the sidelines, the slackers we wanted to believe we were. I would place my backpack over my lap. We sat shoulder to shoulder, skin to skin. Without a word his hands moved up the opening in my skirt. Hands tracing their way along my thighs. I froze. Half-fear. Half-explosion. In hiding I could be who he wanted me to be.
I spent four years trying to fit into the mold of his desire. I told myself I was altered. Maybe he could forget the old parts of me. The parts of me that were me and interchange me for the girl he wanted me to be. That day never came.
I have been taught that the key to retrieving love is to fit yourself into the smallest package. Fold yourself into the spaces deep where you cannot be seen. Persist unheard. Allow yourself only a breath shallow enough to let them in.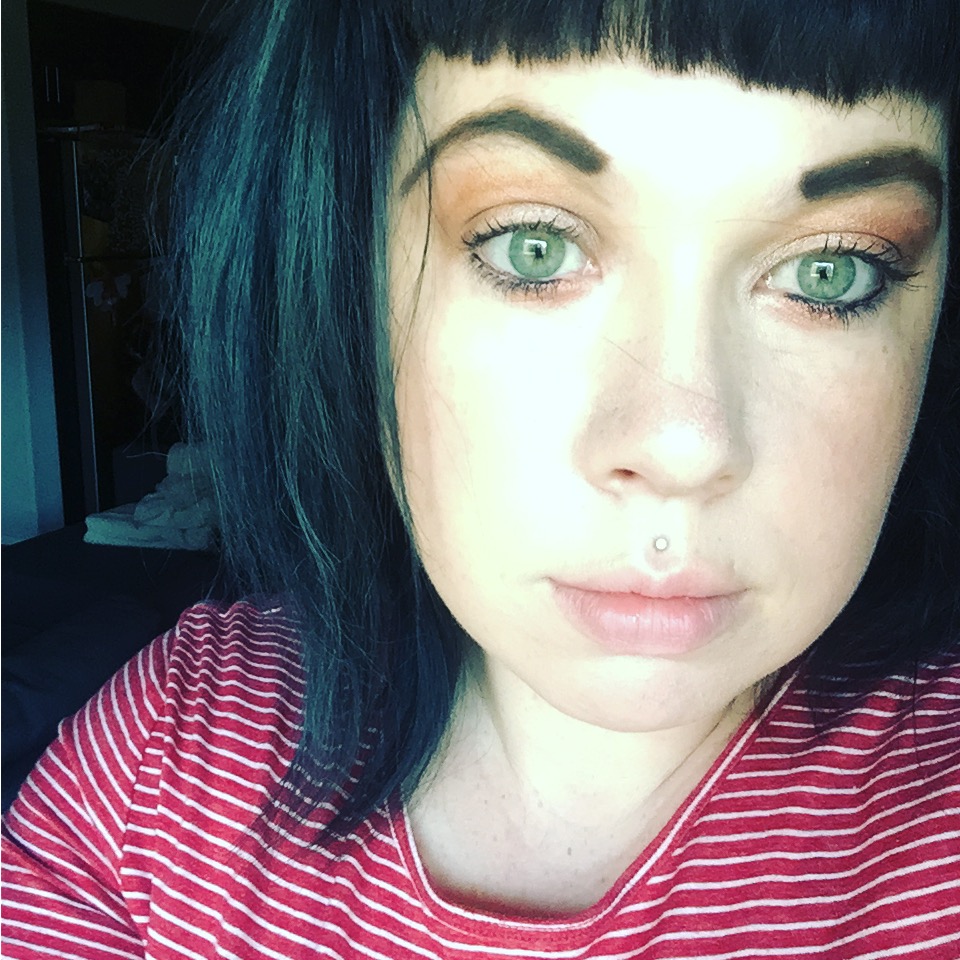 Doni Shepard is a poet, mother, and lifetime learner currently residing in Phoenix. She spends her days managing content for a popular startup, mommying an extraordinary three-year-old, and serving as Lunch Ticket's Poetry Editor. Upon nightfall you can generally find her in an insomniac haze binge-watching streaming television with a fluffy orange feline named Doobie James. Her work has been featured online by Dirty Chai, Bloodletters Literary Magazine, Calamus Journal, Crab Fat Magazine and Ursus Americanus Press and may be found in the love anthology Spectrum 3: LoveLoveLove. She holds an undergraduate degree in Interdisciplinary Studies with a concentration in art therapy from Arizona State University and is currently an MFA candidate at Antioch University Los Angeles, concentrating in poetry.