Thoughts and musings on the season by The Thought Erotic editors, Courtney E. Morgan and Ansley Clark 
February is Domming Me Hard
by Courtney E. Morgan 
February is tough for me every year. My mom's birthday and deathday both fall this month; we finally fully come down from the holidays (and the resolution-rush); Valentine's Day is weird; and the weather is snowy, dark and cold. It's the deepest point of deep-winter, the nadir of the season, of the year, and I have trouble retaining the optimism that the sun will indeed return, that the resurgence of grief and loss, like the gray skies, will pass. Every February, I remember again how hard it is to remember to hold on, to have hope, to believe that spring will come again.
The novel I am currently writing, and much (/most/all) of my work, is deeply interested and in conversation with our cultural myths around death + rebirth, regeneration + transmutation—Persephone, Inanna, Ishtar, Jesus. And every February, I get this reminder of why.
But February is not about regeneration. Not yet. February is the darkest slice of night before the dawn. And what I've realized is that in order to survive (and maybe even enjoy) the month—I need to not fight, not resist, not strive for optimism. But to let February fully and completely dom me into submission. To surrender to the process. To consent to the season's full darkness and depths. (Because it will take me whether I want it to or not. Hades is coming; I can go willingly and with conscious attention, or I can kick and scream and get knocked on my ass by the depression and fatigue, and wind up more exhausted in the end.)
And while I won't say I've found total enjoyment of or pleasure in this particular kink of Feb's… through conscious surrender, I am able to find it less painful.
And one way I deal with this, is I self-care hard.
Self-care is one of these terms that gets dismissed (one, because it's become trendy and therefore immediately co-opted by capitalism and used to sell magazines and bath products and fund Goop empires, but also,) because it's associated with nurturance and compassion and therefore assigned to the feminine (and everything/anything not on the cis-male-masculine end of the spectrum) and therefore instantly dismissible (and make-fun-of-able).
Case in point—I originally wanted to talk in this article about "fierce" self-care—and while I think it's valid to want to defend the power (and fuck-you-capitalism/patriarchy/colonialism-ness) of self-care, I also want to call attention (for myself as much as anyone else) to the idea that maybe we should be able to defend things without making them strong + sharp + pointy + phallic…?
Maybe another way to look at it is as aftercare. In any case, I have learned (the hard way) to take my self-care very seriously in February. To make time for it and make it a priority—or I will get the flu and end up in an involuntary fever-hazed bed rest for a week and a half.
Ansley and I—in slowly crafting this semi-collaborative essay over the unfolding of February—had a lot of discussions about the season, about Valentine's Day, and about caring for ourselves through it all. We pushed back the release of this issue, in fact, in a bow to February's wrath.
We also came to the conclusion that self-care is the necessary antidote to the heteronormative guilt-shame of Valentine's Day. At the urging of another friend (who wisely understands self-care as deep and powerful resistance and revolution), I spent Valentine's Day alone at a Korean spa—soaking, saunaing, detoxing, and getting every scrap of me scrubbed, rubbed and tossed around like a rag doll during a very intense massage.
Sometimes it was painful, but it was also glorifying. There was nowhere to go but under, no exit but surrender. I'm looking forward to the end of February (like a perfectly-placed safe word)—but I'm also learning to experience, and maybe even embrace it, while it's here.
The Pleasure of Being Unproductive
by Ansley Clark 
Well, February is happening. Valentine's Day, however you feel about this holiday, happened. Mercury retrograde is definitely happening. And, with this month's parade of chest colds, snowstorms, over-drafting my checking account, getting my tiny, significantly not four-wheel drive car stuck in the snow and blowing out its clutch, I feel very tired and a bit depressed right now.
Courtney and I have been chatting about this weird February feeling over tea and coffee at her kitchen table, or under blankets while watching episodes of Outlander. And I am slowly realizing I need more moments that connect me to my physical and erotic self. I need moments of eroticism that aren't sex, in order to fuel my desire for moments of eroticism that are sex.
What eroticism looks like depends completely on the individual, of course, which is also what makes eroticism so thrilling. For me, eroticism often looks less like actual arousal and more like fragments of tenderness floating through my day: pausing inside a splash of buttery sunlight on the landing or getting lost in a good love story (currently watching Phoebe Waller-Bridge's Crashing and, as previously mentioned, Outlander, currently reading Can Xue's Love in the New Millennium). Actually letting myself recognize the ways my partner touches me throughout the day, how he hugs me from behind while I'm standing at the sink, rests his hand on my thigh during the Spanish class we take together, touches my hair as we fall asleep.
It is vital to me to recognize and cultivate the parts of my life that involve pleasure and relaxation without relying on consumerist, capitalist culture. I often overlook these moments because they are the times when I am neither spending nor earning money, and therefore when the voice in my head telling me I am wrong and not enough gets very loud. This voice often makes late winter a difficult time for me—I feel worn out from the cold and move slower than usual, which creates a lot of empty space for the anxieties and voices of criticism to creep in, which often results in either worrying about how to make more money, or—absurdly—distracting myself from these worries by spending money. It is so easy to believe the cultural lie that doing nothing—resting, staying still—is bad.
But, if I can quiet the voices and resist the urge to move toward consumerist culture as distraction, it is ultimately these empty spaces, hinging on a lack of productivity, that I find deeply erotic and renewing. Today, for example, it is cold and windy, and the landscape is covered with old snow. I need to complete some work in order to pay my bills and survive, but once this work is done, I am going to do my best to give in to a long evening of doing nothing. I might take a bath. I might light a candle and listen to the wind in the chimney. I might nurse a spoonful of honey to soothe my sore throat. Hell, I might crawl in bed naked at eight p.m.
February, I think, can be full of these moments of tender, erotic un-productivity. The month itself feels like a drifting, soft month. It looks white and pale pink. It's full of an emptiness that, if I sit with it, can contain pleasure.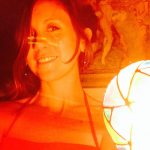 Courtney E. Morgan is the author of the story collection, The Seven Autopsies of Nora Hanneman (FC2, 2017). Her writing has also appeared in Pleiades, Lunch Ticket, American Book Review, and others. Morgan is the founder and managing editor of The Thought Erotic. She lives in Denver with her son and is writing a novel of literary speculative fiction. Find her at courtneyemorgan.com.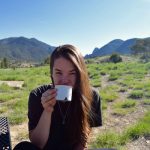 Ansley Clark is the poetry editor for The Thought Erotic and a writer and teacher living in Colorado. She is the author of the chapbook Geography (dancing girl 2015). Her work has appeared in or is forthcoming from Crazyhorse, The Colorado Review, Bennington Review, The Feminist Wire, and elsewhere.