mon objet
I do not want to rinse you off me. I do not want to go. This war in me speaks loudest at night—as if all at once, 
the yin tide, pink, lush, and like a lather—your love salve—I take in with the largest mouthfuls from the most
beautiful silver spoon…As it turns out, once my organs are satiated from the swell brought of the raw honey well,
everything shifts into perspective                  where white wine has clotted to a bubble at the bottom of glasses 
where sunlight turns half your body to gold, begging to be licked
merit
I welcome your palms sitting flush against my palms and the fingers intertwined and your callouses raised and full of blood. Saying "yes" to all of you in every crevice of my soft fruit, hard as stone. I unfurl to be open to the wind and grass that scratches the backs of my thighs, which you hold like a newborn and savor the skin of…your slick mouth painting love letters on my tongue.
Answer to the sun in the morning. 
Question everything tomorrow.
But, in this moment, today, you feast; you laugh; you talk; you are beloved; you quench the thirst of an animal you thought there was no kind.
the secret garden
My body knows not of it bones
or its blood
Or its freckled skin
or if its origins                      knows not of its fertility, or infertility
Nor does it know of the source of its aches—the electricity that paralyzes; spectral, cruel and demon-like

It leaks things
It depletes things
It makes things ashen
It steals and hides valuables to be eaten by other beings
my body is ill-advised
sometimes, its sap rots...
Why does it change this way?
Creak?
Moan?
Whine?
When all I ask is that it present itself as a place that could be beautiful.
cosmic love below
My pussy, clean and hidden between my legs, crossed, underneath a cotton dress, catapulted to a place where I
play with lit matches and mount stars, riding to my peak.

It is the way I hold you in my hands and feel your second heartbeat rise at my innocence.

I dreamt once that you built me a bed like Odysseus did for Penelope, but let us not pretend. 

It is spring, where roses nestled in our throats, die, and all honey made is sour.
black friar
Frank sits in the orb of yellow trapped in the palm of my hand, like some queer cherub. A woman emerges from behind silver double doors and positions herself in front of him, legs spread on an ottoman, a nebulous, glittery haze escaping—the love she releases felt, only, by the black friar; the face hole useless, here...she seeks not to be eaten and he seeks to be understood. Somehow, these bodies are made to melt: the skin made to be kneaded, peeled or burned off—sliced open like the surface of a healthy peach. Object filled orifices, with or without their consent. Skeletons with black robes who were once diminutive devils, perhaps even a bold baby body, that scared everyone as a potential source of conflict.
come back; come home
All virtue was lost to the backdrop of a quiet evening framed by the small window of a second floor bedroom,
dimly lit. Driven by the compulsion to touch and be touched, to quell the constant, vibrating, hum of all things
unrequited. To eat. Bending to a will that will always leak—you are a love, come to take me home.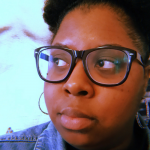 Afieya Kipp is a poet and editor born in Brooklyn, NY. Her work can be found or is forthcoming in The Penmen Review, Hello Poetry and Badlands Literary Journal. She is the author of "Investments in Weak Vessels" (Whiskey Tit Books) and "The Mouth and All Its Functions" (Vessel Press). Afieya received her MA in Poetry from Southern New Hampshire University and a BFA with distinction in Painting from Kean University. She currently lives in northern New Jersey and is the Editor and Founder of Vessel Press, an indie micropress for womxn-focused narratives and projects.