M i l k   P T S D
I don't play to lose,
but I played,
and I lost.
Hard being sexless for knowing someone's heart.
Everybody's got somethin' somebody else ain't got.
I got the best, tight little pussy.
I got the best, tight little heart and soul, too.
I also have a moral compass.
I got a moral compass
and a motel compass
and a backseat compass,
when the going gets
too drunk to fuck.
I've always been a man's ma'am.
Because the moon is a rogue,
and the muse is on repeat,
and my gaze has been thusly affected.
Respectable receptacle, man-infested.
Kingly queen with delusions of infamy.
What I want, I can't have,
and what I can have, I don't want.
Alas, Babylonian gunfire.
But I will performe and performe and performe.
I will do so, oh so very merely.
I'm your flower child in bondage.
You can flog me lovingly without loving me,
but I'm going to want you to actually love me.
And your spirit is oh so sweet.
That's why it's all sunshine, lollipops, and rainbows
when we meet.
But the unrequited public
would not look kindly upon it.
Perhaps we're doomed
to wander the planet together forever
because neither of us knows
how to give or receive
unconditional
romantic
love.
But for 24 hours, you were mine.
For 24 hours, we lived an entire lifetime.
For 24 hours, I was your queen, you were my guy.
For 24 hours, you were mine.
It's hard work, being in love with anything.
It's hard work, being in love with everything.
I've never really healed so much as I've serially distracted myself from pain.
Everywhere I go,
I'm Jack the Ripper in the room.
I kill 'em with kindness.
I kill 'em with one look.
I got the best, tight little pussy.
I may even give you a stigmata during sex.
I may even dismember you during sex.
I may even diss your member during sex.
But you'll never know my heart.
I'm your flower lover,
lower, child,
in bondage, bound
to you.
I'll always be younger than you,
until I look older than you.
Let's put our numbskulls together
and find a better outlet.
H i g h   T e a
I took minutes in the salad days of our love.
Even if it all burns out within a month,
you were still the one.
I cheer when you beat me
because your team is my team.
The pleasure of winning is too great a reward,
unless we're playing for keeps.
When the machine breaks, the truth speaks:
Your breath smells like FREE CANDY.
Any attempt to fit a square peg
into a round hole
is sexy.
So take a hit off the crack rock,
and be my fuck machine.
It's not gonna feel like a complete night,
unless you fuck me within an inch of my life.
In the jewelry sore,
I milk that twinkle in the eye.
When I see a garbage container,
I put a rose on it.
I take heart when I slobber you a river.
When you engineer my pussy,
I believe in absolute inclusivity.
When I water your dingaling,
I zinger.
But at some point, I stop dancing
and start poking meat.
At some point, I stop wondering
and start looking.
At this hottie with both perfect steamy.
Stunning in a very has-been would-be.
Doing the haunted monster wander.
Handsome in the sky with abandon.
She was elegant and cute.
She might've fucked your boyfriend, or two.
But she didn't mean it—she was true.
Don't hate her because she's you.
Don't hate her because she's mammoth
in the cult of popular opinion.
Don't date her.
I always thought that the deep space
of the profound gaping wank
of popular opinion
was helping me.
Dangling on into the strange.
Even though I'm the only one who knows the luxury
or has even had the pleasure.
To string one on both at the same
and sweeten a lasting.
Will you protect my heart,
especially in the dark?
Immersed in the heat of a girl's understate,
just to get the crick out of the star part.
Thus spake this creature who cannot openly, horribly.

I heard she killed a shrew before her eyes had ever opened.

I heard she was like a baby to the touch.
And apparently it really wasn't much of a challenge or a victory.
Spirituality is an air-headed thing.
So go down your flower hole,
and emerge with your flower wings.
I won't accept anything less than paradise.
Paradise is anywhere where I feel free.
"High Tea" was first published at White Stag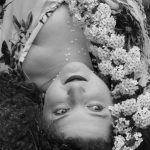 Kim Vodicka is the spokesbitch of a degeneration and heart-reactionary at the rearguard of the rose arts. She is the author of two full-length poetry collections: Aesthesia Balderdash (Trembling Pillow Press, 2012) and Psychic Privates (White Stag Publishing, 2018), as well as a poetic comic book series (Oily Pelican Press, 2015) and a chapbook of sound poems on vinyl (TENDERLOIN, 2017), both of which are also called Psychic Privates. Additionally, she is the author of The Elvis Machine (forthcoming from The Artist Commons, 2019), a chapbook of illustrated poetry. Her poems, art, and essays have been featured in Spork, Queen Mob's Teahouse, Makeout Creek, Luna Luna Magazine, Paper Darts, Tarpaulin Sky, Best American Experimental Writing, Nasty!, I Am Strength, and many others. Cruise her at kimvodicka.com.